North West Aerial Drone Operator
Video | Photography | Surveys
Cumbria • Lake District • Lancaster • Carlisle • Preston
---
Naik Media is a CAA approved Commercial Aerial Drone Operator based in Lake District, Cumbria and operating throughout the North West and UK specialising in aerial photography, cinematic aerial video, as well as drone surveys.
With our background in commercial video production and commercial photography, we are able to provide high quality aerial drone media services using state of the art Unmanned Aerial Systems and cinematic & broadcast quality cameras.
---
What do I need a drone for?
As the market makes aerial video and photography more accessible, more and more companies are using drones for their marketing and promotion.  Some are even using it as a complement to their own service, such as surveys.
Drones offer a unique perspective on the world, and allow you to give more context to a location by creating epic shots that take the viewer's breath away.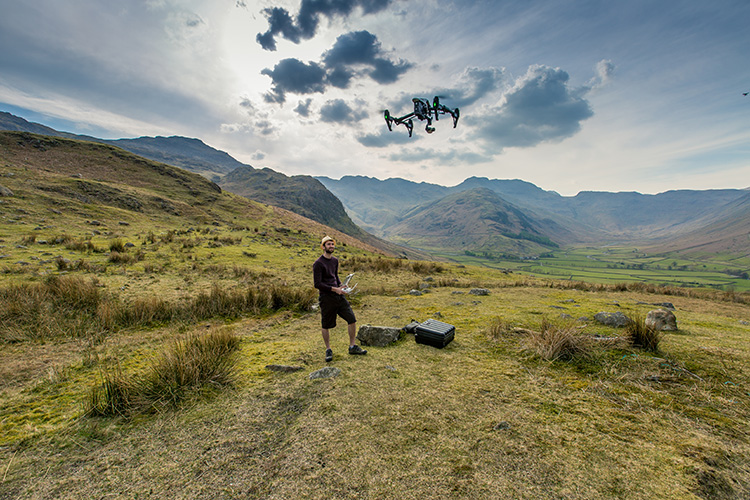 Aerial Photography:
Just like with video, aerial photography can add a unique view to truly inspire your viewer, or even simply provide a birds-eye view of your business or property for your own enjoyment.
Most drones use small sensor cameras which lack detail, dynamic range and low-light capabilities.  The interchangeable lens MFT systems on our aerial camera means we can provide professional quality photography for commercial or survey purposes.

Cinematic Video:
For years Hollywood relied on cranes and helicopters to add a grand feeling to their shots – basically, make them look more epic and inspiring.
These shots were out of the budget for most commercial videos.  Until now.  We can create contextual videos which give your viewer a unique perspective on your business, operation, or location.
Unlike many other drone operators, we are able to film in 4K RAW.  This is the cinema standard.  Our premium quality footage is not only broadcast quality, but is also superior to many broadcast cameras.
We can also offer commercial quality footage in 1080p with a lower editing time, just ask which is more suitable for your project.
Drone Survey Video & Photography:
Sometimes you need a person to carry out detailed inspections, but then sometimes it's impractical or expensive to do just that.
We have worked with companies to carry out inspections where it's quicker and easier to simply fly the drone up to examine it.
The 4K video we provide allows extremely detailed footage very close to the target, and 12mp files allow zooming into the image to see even closer.  It's not the most exciting footage but it demonstrates the level of detail you can achieve.
---

---